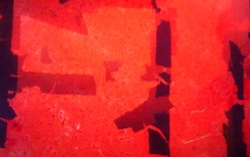 Imperfect Cinema has run a number of 'cameraless' film workshops, with hands-on direct animation! During this workshops we provided a length of 16mm film stock on which to make your mark with paints, pens, bleach, scalpels and even old letraset transfers! Using a variety of 16mm materials such as clear and black film leader, and even old archive 16mm films which participants we're able to re-author.
Cine Club provides an informal venue to tinker with theory technology and text!
'Most Simply, PROFESSIONALISM suggests performing a task for financial return, and AMATEURISM indicates doing something for pleasure, for the sheer love of it, as its' Latin root – AMARE- denotes. However, these rather value-laden, popular distinctions conceal much more complex social relations: while the professional conducts activities for work, an amateur labors away from work, in free tome or leisure time. In amateurism as a social and historical phenomenon, work and free time are not locked into simple binary oppositions; rather the absence of one defines and imbricates the other.'
(Patricia Zimmerman, 1995)
Imperfect Cine Club continues a tradition which is as old as film itself, the amateur film enthusiasts club! With its emphasis on sharing knowledge, expertise and ideas in an informal setting, ICC continues this proud tradition, contextualising the amateur as 'one who pursues an objective for the love or enjoyment of it.' Indeed it was the tinkerings of self-proclaimed amateur film-makers such as the Lumiere Brothers and William Freise-Greene which gave birth to Cinema itself! From the visual fantacism of George Melies, to the occult conjurings of Maya Deren and the poetic elegance of Margaret Tait, amateur film-makers have always been at the pioneering heart of cinema, their contributions exploring those unknowns of thought and practice, that professionals often fear to tread! ICC is focused on the sharing of knowledge with the aim of enabling practice, by exploring key themes and technologies of relevance to the Imperfect Cinema project in open forum.
Imperfect Cine Club also has a  production resource which is available to anyone who would like to make a film for Imperfect Cinema (We'll need photo ID from you for insurance purposes) and you'll find a brief list of our resources below. Rather than attempting to build a resource which represents the cutting edge of moving-image technology, we have instead assembled a catalogue of what we consider to be interesting technologies & curios for club members to play and experiment with. As many of these technologies are considered to be 'obsolescent' by the corporate imaging industry, we have put together a collection of manuals and learning materials below which we hope will assist our members with their film projects.
Imperfect Cine Club Resources (click hyperlinks to link / download)
Braun Nizo 801 Macro super-8 camera …..(click here for original instruction manual pdf)

Braun Nizo 801 professional super-8 camera …..(click here for original instruction manual pdf)
EWA Underwater Housing for Braun Nizo cameras….. (click here for original instruction manual pdf)

Circuit Bent Fisher Price 'PXL-2000' pixelvision camera …..(click here for original instruction manual pdf)
Kodak Play Sport waterproof micro HD1080p video camera …….(click here for original instruction manual pdf)