Imperfect Cinema is a venue for film, video and moving image art in Plymouth, England.
.

Background to the Project 

Developed and overseen by Allister Gall and Dan Paolantonio, the project centers on their shared backgrounds in DIY culture,  and activates key methodological techniques of this subculture to describe, position, interrogate and socialise a micro-cinema practice which addresses issues of sustainability & inequality existent within the mainstreams of contemporary film culture.
Imperfect Cinema is a non-hierarchical venue for participatory activity  and valourises non-virtuosity and experimentation as an alternative to the alienating production values and the enclavist tendencies of the dominant mainstreams of contemporary film culture.

In addition to screening bespoke short films, Imperfect Cinema events have also featured workshops, special preview screenings, mute films brought to aural life with live performance, spoken word and musical improvisation, interviews, live discussions and an 'open reel' section which is a venue for screening films which have not been produced directly in response to an Imperfect Cinema theme & for works in progress.
.
In April 2011 we travelled to the spiritual homeland of Imperfect Cinema, when we held our first event in the home of No Wave Cinema, New York City! We were absolutely delighted to hold this event at Interstate Projects art space in Brooklyn and hope that this will be one of many opportunities to connect with other like-minded artists around the globe!
.

.
From October 21st-23rd Imperfect Cinema ran a film workshop and screening event at  Supersonic 2011 , (the UK's premiere sonic & visual arts festival, Birmingham, UK) which will culminated in a live film-sound performance! We were absolutely thrilled to be working in partnership with soundKITCHEN during this on this prestigious festival and screened the results of our collaboration in our December 10th Christmas Special event!
..
.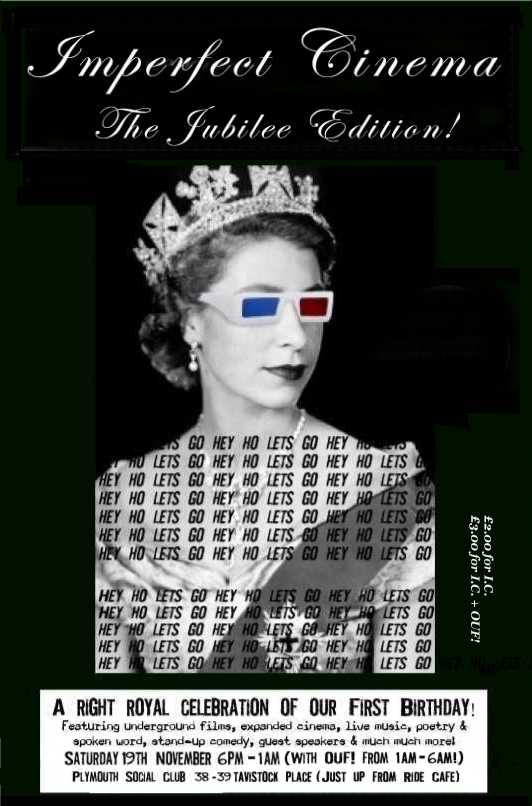 On Saturday 19th November 2011 Imperfect Cinema celebrated its first anniversary in style and in partnership with our friends OUF! hosted a 12-hour extravaganza of film, live music, stand-up comedy, poetry, photography & live debate! If you missed this you missed out!
Because the Imperfect Cinema Juggernaut had been moving at such an unrelenting pace, we decided to keep our final event for 2011 suitably low-key and so on December 10th, we held our Festive Film Matinee, which featured a refreshingly original open reel and also provided us with the opportunity to dip deep into the Imperfect Cinema Vaults and share some of our favourite films from IC!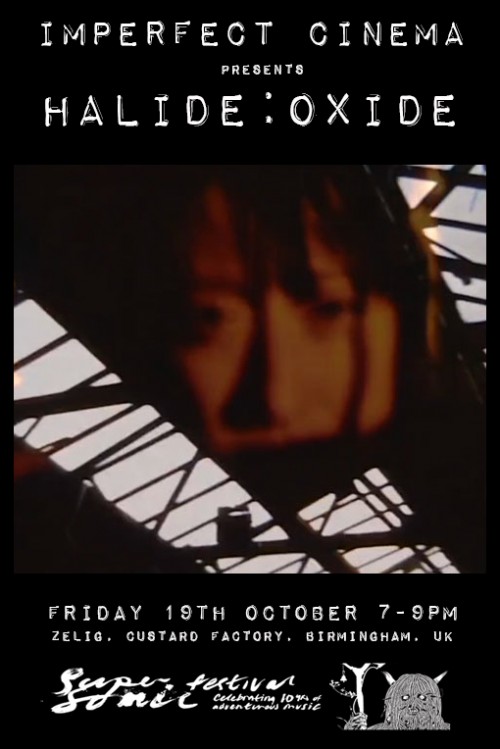 Production activities in 2012 included our new collaborative project Imperfect Cinema in Space and our documentary feature Bullshit Detector, both of which explored non-hierarchical and participatory modes of production. During the final months of 2012 we will be expanding our regular micro-cinema events into other social spaces such as cafes and restaurants, opening the door for different viewing experiences and to contributors of all-ages!
In October 2012 we had two very exciting events lined up, the first is Halide-Oxide our Workshop & Screening event at this years Supersonic Festival (Oct 19-21, Birmingham UK), and the second is the Imperfect Cinema Halloween Massacre (Oct 28, Jack Chams, Plymouth, UK) where we will be inviting our attendees to screen their most bloodthirsty and spine-chilling slices of cinema, in addition to dusting off some suitably gruesome reels of our own to bring the night to a close!
Over the last few years, we have continued to host open access d.i.y underground film events, explore live sound-cinema, organise workshops, present research conferences around the world and use the project as a form of practice as research for a PhD submission! In fact, Allisters film 'Everything Imperfect', will be screened at the conference/film festival 'Sightlines: Filmmaking in the Academy' in Melbourne this November 2016!